Material of the Month: Textiles
If you are new to the world of upholstery, choosing the right fabric may seem like an overwhelming task. It's a big investment and you don't want to choose the wrong material! What do you need to know before going out to purchase a quality product? This blog post will discuss fabric durability, fabric contents, patterns and more! I'll even share a few tips for you to consider before choosing a fabric and hopefully keep you from battling snags or stains in the future!
Shopping for upholstery: How to Read the Information and what you need to know.
No matter where you buy your fabric, every upholstery fabric comes with a list of information regarding its performance qualities. Think of it as your fabric cheat sheet! (I know what you are thinking, I don't want to read all that information. I just want to pick the one I like and be done with it!) However, I encourage you to take the time to read and understand the information provided to make sure your fabric will last as long as you're expecting. Here are some of the key things to know on that little information sheet.
Durability. Double Rubs. Wyzenbeek Test.
Durability, double rubs, and the Wyzenbeek test are one and the same. This is an industry developed test where a machine tests the strength of the upholstery. During this test a piece of cotton or wire is placed on a special machine and rubbed against a fabric in a back and forth motion until there are signs of "noticeable wear" which simulates how a fabric will be used and abused over time. This helps classify fabrics as being ideal for light, medium and heavy duty applications. Depending on the materials in the upholstery, similar to the shirt on your back, some materials are stronger withstanding than others, and higher quality.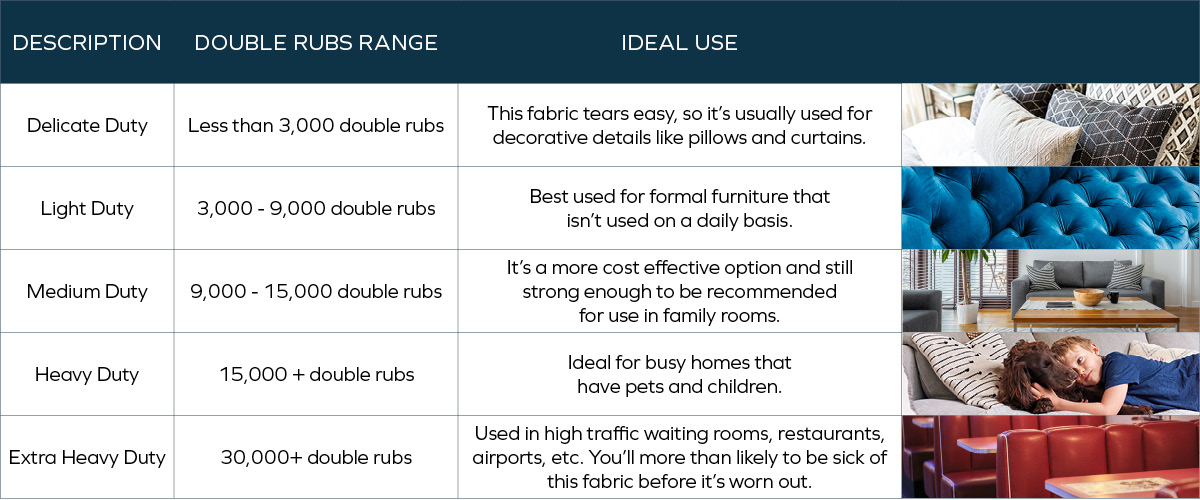 It helps to be able to recognize the range for the durability test. Understand that there are a wide range of double rubs above 30,000 and can reach up to 100,000+ products and those are typically used in high traffic areas for commercial design, such as transportation stations, airports, healthcare and so on.  
Think practical and keep this chart in mind when you go shopping for your next piece of furniture. You may absolutely love that silk velvet couch, but will it get destroyed in your home with kids and pets? Think about how you live and who will be using the piece. Furniture in high traffic areas will need a more durable fabric, while furniture that acquires less wear and tear (like a headboard!) can use a less durable fabric.
Insider note: "Double rubs" is essentially the idea that every 'sit' comes with the abrasion of sitting, and again when you stand. If it helps, you can literally think of it as the two times your rear end slides across the seat to sit down and get back up.
Pattern: Horizontal & Vertical Repeats
Now that we have our fabric durability squared away, let's move on to something more fun, like pattern! There are a couple of things to consider when you start to look at patterns. The scale of the pattern you choose can help create texture and add emphasis in a space. Pattern sizes vary from small to large, and even oversized patterns.  
At ID8 we typically try to reserve oversized patterns in a limited capacity (i.e. throw pillows, or 1-2 amazing accent chairs) within the space so they are not overstimulating. It's fun to have that seasonal Santa shaped pillow or full blown sequined pillow for a room, but it's also nice to be able to put those away when you are ready for a change.  
Fiber: What is fabric made of?
Every upholstery fabric has it's own charm and unique impact, but just like different strengths of upholstery work better for certain applications, different fabrics work better for certain applications too. It's important to understand and consider these factors including; type of furniture (formal or informal), do you have pets, how easy can it be cleaned, children, stain resistance, and of course, how expensive is it, before you purchase your fabric. Here's a few of the most popular upholstery fabrics and a few pros and cons about each!
Linen - Linen is an affordable fabric, however it can wrinkle and stain easily. It can shrink when it is washed, so it needs to be professionally cleaned.
Cotton - Cotton is the most popular upholstery fabric. One pro is that it can be died in any color imaginable and it is available in different grades so it works for a variety of budgets. It's also super soft and comfortable! A few negative are that it soaks in spills quickly and wrinkles easily.
Wool - Wool is a durable and sturdy fabric that is available in many varieties, however if it gets wet it can trap odors that are hard to get rid of. It is an environmentally friendly material.
Leather - One of the most durable fabrics is leather. It's a great option for high traffic areas and doesn't absorb spilled materials, making it easy to maintain.
Polyester - Polyester is often used with other fibers and adds wrinkle protection to the fabric. It also retains dyes really well and available in many colors. It is stain resistant and abrasion resistant, which makes it very durable. Polyester is the most produced synthetic fiber.
Acetate - Acetate is resistant to pilling and humidity, however it lacks strength and is not resistant to scratches. This fabric isn't suitable for everyday use, but might be a good option for a formal sitting area.
Velvet - Velvet is an elegant and regal fabric. It also has excellent insulation properties! Unfortunately, velvet is difficult to clean and maintain and expensive.
Rayon - Rayon is very soft and comfortable and can be durable. However, Rayon can scratch easily and is prone to wrinkling.
Silk - Silk is expensive and should only be used on furniture without heavy use. One downfall about silk is that it requires professional cleaning if something is spilled on it.
Finishes. 
What the CROCK is that? 
Crock is a term used with fabric to refer to the possibility of dye transfer. This can be noted in the description or in the fabric care. Ideally any product that has a chance of dye transfer should be avoided for seating options and be limited to curtains and the backsides of furniture to avoid staining clothing. Think about your new favorite blue jeans staining your hands the first few times you wear them. That would be HORRIBLE in a chair.
Can't find the right design? Order online!
Can't find the right pattern or color you are looking for? Try looking online! (The horror, right!?) How often do you order something online only for it to come to you in a different color than what was represented online?
I am so guilty and have made it a habit to repeat this mistake over and over again when ordering clothes. However, when it comes to ordering textiles online, many companies offer you the opportunity to order a fabric sample. Some do it free of charge, while others charge for the sample or shipping, regardless, ordering a sample first can save you time in the long run and keep you from ordering a material you don't care for. Bonus! By ordering a sample you also get the opportunity to touch and feel exactly what you are ordering so there are no surprises. A pattern can be gorgeous, but the material may not be soft or comfortable and depending on where you are using it, you may want to know how the look and feel of the fabric will hold up in your room.
How much fabric do I need?
There are a couple different options for you when it comes to knowing exactly how much fabric you need. And it depends on what and how you are using the fabric.
The DIYer: If you are going to be recovering your chair, you should consider using an online fabric calculator. This is the online fabric calculator I've used and I am impressed by the way it categorizes measurements and calculates quickly. Keep in mind if you are not experienced in re-upholstering something, you may want to consider purchasing extra fabric to allow for ... let's call it "practice". (I am a well "practiced", almost professional!) Another benefit of ordering extra fabric is, leftover upholstery can make for an excellent coordinating pillow or some fun DIY art.
The Hirer: If you are hiring someone to reupholster your piece. Check with them first, as they may have upholstery on hand, preferred manufacturers with samples and

offer different 

pricing

.
Some things that you may want to do prior to having your piece reupholstered:

 

C

ontact them or visit and 

have

 images of the piece you are trying to have redone

 

If you haven't s

elected an upholstery yet:

 

Ask them about what upholstery they offer in-house

, or who their preferred vendors are

 

Ask them their opinion on what would be best for your piece in terms of durability; they are the experts

, just like asking your doctor health questi

ons

 

Inquire about timeline; this can include both start date and time to completion; these folks tend to be busy - especially if they have a good reputation! I

t can take varying degrees of time to have pieces completed (factors including staff, complexity of piece and additional projects is 

all 

part of the equation).
The Orderer:

If you are ordering 

a new piece of furniture from a store or online

, the

y

 may

 

wil

l 

provide you with select options or manufacturer options for

just give the fabric option to the manufacturer and take care of that. 

 
"What is crypton fabric? Do I need it?
Are you shopping for new furniture? Recovering old furniture? Crypton keeps coming up as an option, but what really is crypton? Do you really need it?
Crypton is actually NOT A FABRIC but a finish applied to a wide range of fabrics from different companies and manufacturers. This finish is designed to help resist moisture, stains and odors and is also said to extend the life of furniture by at least five years. We're a fan of lists in our office, so we created this "Pros" list on why Crypton is a good choice.
Pet friendly

Kid friendly

Husband Friendly

Easy to clean

Odor free

Falling asleep on the couch with wine friendly

Accident prone wife friendly
When thinking about your household and the numerous things you can't control, this option can make those factors easier to handle. (Wouldn't it be nice to breezily walk over to wipe up spilled juice? Like, "no big deal, I got this!") Okay, maybe not that casual, but it is nice to know your fabric is protected for life's predictably unpredictable moments.
Crypton isn't just for upholstery. You can get Crypton mattress protectors, crib mattresses, car seats, lift chairs, patio furniture and even dog beds. Crazy right? I'm all about options and love investing in ways to make life easier.
When you're ready to reupholster that old chair or purchase a new couch, keep these tips in mind. Whatever fabric might appeal to you, make sure you think about the furniture use, the fabric durability, and the overall pattern and texture of the fabric. Think and plan, and you'll enjoy your "new" piece of furniture for years!