Material of the Month: Carpet
Carpet has been a staple product in the United States since the first mill opened in 1791 in Philadelphia, Pennsylvania. It has changed and evolved with each century, and has become a necessity in homes and businesses to not only add warmth, texture and personality to a space, but can also help demonstrate a strong brand identity.
BROADLOOM & CARPET TILE
There are two main options when it comes to carpet – broadloom and carpet tile. Broadloom is the more traditional choice, as it can be used to fill large rooms or long hallways from one end to another with fewer seams, as well as be molded to staircases. The colors and patterns on broadloom can be larger and continuous, and is often less expensive because it is made in larger quantities. However, the broadloom rolls can create a lot of waste when it comes to installing them in a space, as it needs to be cut down to fit the space. Replacing broadloom also requires the entire carpet to be removed, as it is not an option to only remove part of the carpet that may be damaged. In a smaller area, this is not a huge undertaking, but in a large conference room or ballroom, it can be quite expensive to remove and replace the entire carpet.
The other option is carpet tile, which has been in the United States for about the last 50 years. Just as their name implies, this carpet comes in a variety of shapes and sizes in individual tiles, that can be rotated or mix-and-matched to create unique designs. With these tiles being easier to handle, they are easy to install or replace, as well as less waste, since only a few tiles need to be cut down to fit a room. They are a versatile product, where they can be used on top of a hardwood or laminate floor, to define spaces or create a custom rug, allowing for the room to have multiple flooring options. However, carpet tiles typically lack that soft, plush quality that broadloom is known for, so they are not always ideal for a home setting. They also can be more expensive to purchase than broadloom, but are more cost effective since the tiles can be swapped out if limited replacements need to happen. We recommend professional installation for both broadloom and carpet tiles.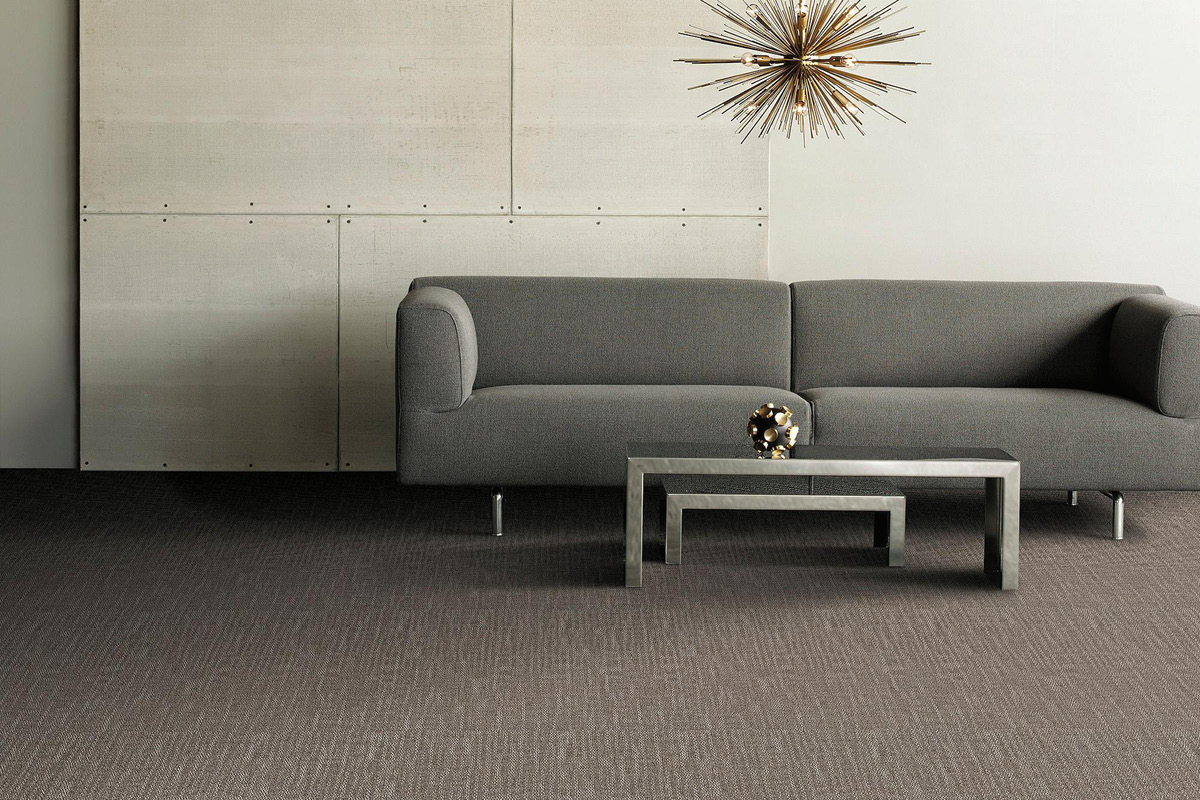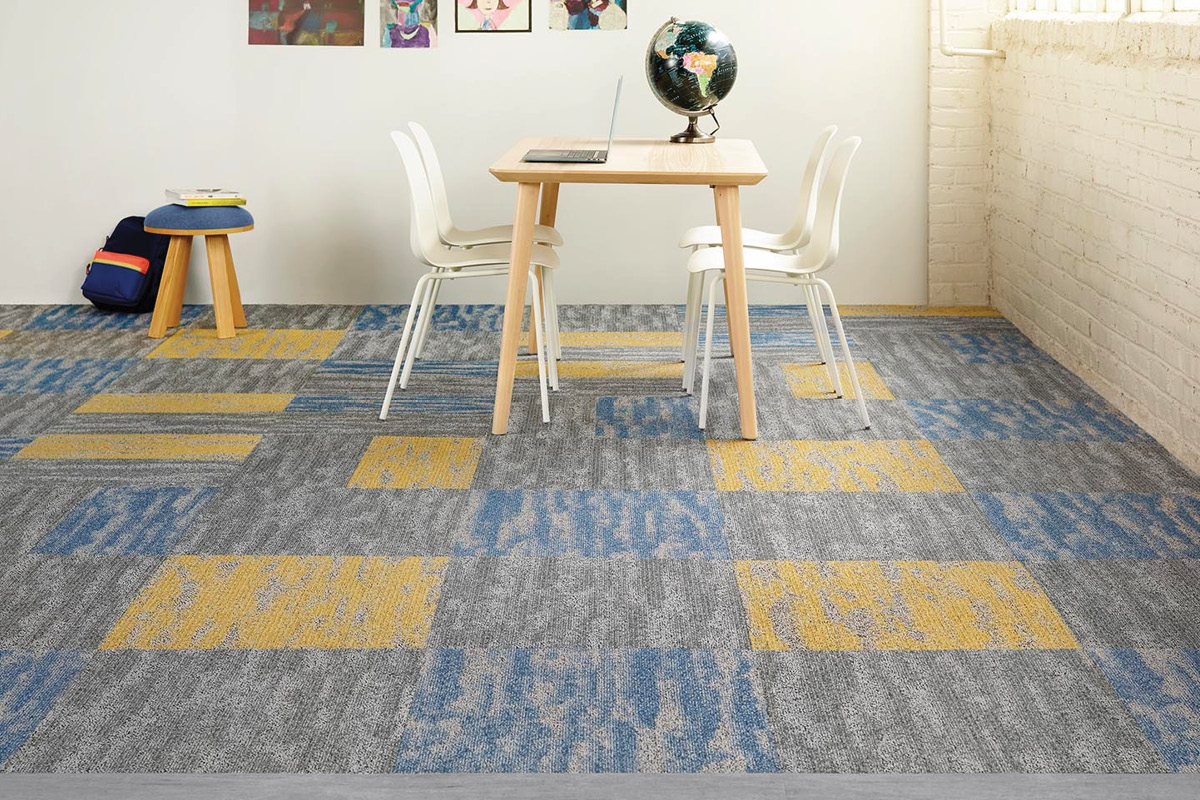 At ID8 Architecture, we look closely at the different products and companies to ensure our clients are using the best carpet option for their spaces, creating an environment that embodies their personality, brand and style. We believe this is an important step in the design process, and applied the same research techniques when we renovated our office last year. There are different aspects to consider, such as warranties, color and pattern options, and overall carpet company practices.
UNDERSTANDING CARPET WARRANTIES
There are a number of good quality, sustainability-minded carpet companies in the United States, which allows us to have a large selection to choose from, both for our space and yours. We knew we wanted to go with carpet tile, for the reasons listed above, so we started to look at the warranties of different companies. Many of the large commercial carpet companies offer a Limited Lifetime Warranty on their carpet tiles. This warranty can be broken down into two parts. The Limited portion means that if there is a defect in the product from the manufacturer, they will replace it as long as certain conditions are met that the manufacturer lays out in their warranty. They will not replace it if the damage is created by the purchaser, especially if there was improper installation or carelessness was taken after installation, such as spilling a colored liquid or tracking mud on it. The second part, Lifetime, can be confusing, as it does not mean the lifetime of the purchaser, but rather implies the length of time the manufacturer still produces this carpet style. It can also mean that the warranty does not transfer if the building that the carpet was installed in is sold to a new owner/company. This is usually not a huge concern, as a new owner will more than likely renovate the space to reflect their own brand and style.
CARPET PATTERN & DESIGN
Although, it's not generally the first material thought of to make a design statement, carpet is a great way to pull character into a room and reflect a company's brand throughout a space.
For a little background information, carpet tiles usually come in collections. This means that there is a number of running lines, or design patterns, that have the same set of colors used. This is helpful if you want to mix and match different patterns in a space, or place different patterns in different rooms, but have consistent color or two throughout.
At the ID8 office, we chose white walls and shelving throughout our space to create a bright, light, and inviting environment to help share materials with clients in the most natural light we could achieve indoors. With so much white, we needed a focal point, which is why a wall-to-wall patterned carpet was the perfect choice for us!
We looked through many options but were really drawn to Shaw Contract's Haven Collection. This collection has six running lines that range from a textured solid to a bold pattern, and comes in 12 color options. We chose to have the big, bold pattern, called Identity, throughout the main space of our office. We used two different colors, Greige and Truffle, to add visual excitement and create a statement against the clean white walls and shelving.
We selected another running line from the Haven Collection, called Honest, and used the same two colors, Greige and Truffle, to feature a good balance of light and dark. This smaller pattern also compliments Identity well. We chose to use it at as a border in our conference room, to create a more distinguished feeling and set it apart from the main office. It was also selected to be the carpet of our President's office to establish a calmer, more focused atmosphere.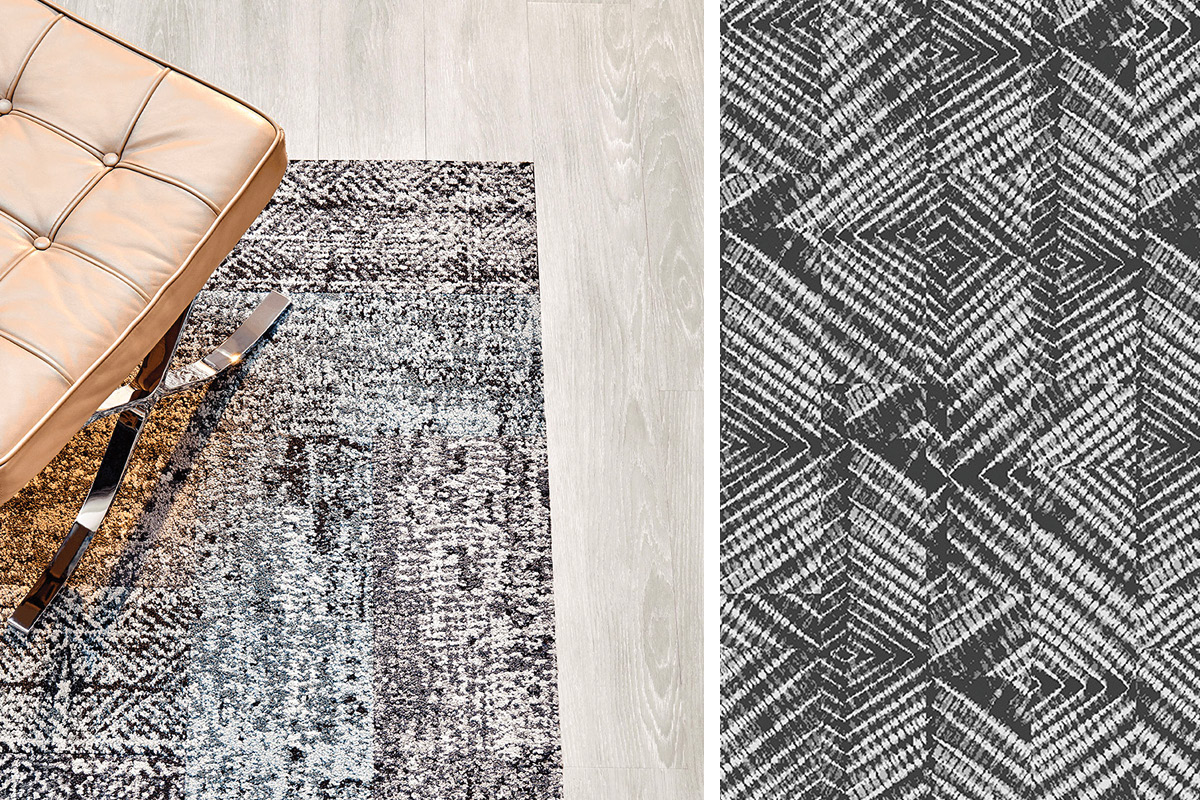 As designers, we also dug in deeper, not selecting them solely on appearance, but looking at the technical aspects of the product. We look at what kind of backing is used, and the fiber and dye methods, to know that we have a lasting product installed in our space. The backing of a carpet tile helps determine how durable it will be within a space. There are a few different options, but the Haven Collection included the EcoWorx® backing, which is "100% PVC- free recyclable backing system with recycled content, made from thermoplastic polyolefin compound with reinforcing layer." 1 Installing a product that does not contain PVC is not only good for the health and well-being of those working within the office, but is also good for the environment. Shaw Contract is one of the commercial carpet companies who are implementing the Cradle-to-Cradle philosophy, where they "design products made with materials that can safely return to nature or industry." 1 The other key aspect that we look at is the type of fiber and dye methods of the carpet, which lets the designer know how durable the carpet is and if those fibers are completely colored all the way through or just on the surface of the fiber. The Haven Collection uses an Eco Solution Q® nylon fiber, which is not only highly durable, but is made from recycled content and can be 100% recycled when the carpet tiles are replaced. Those nylon fibers are 100% solution dyed, meaning the chosen colors are fully incorporated into the fiber, which prevents fading. These technical aspects not only show us that the product we selected will hold up on our office floor, but will be safe for our employees and the environment, which is what ID8 Architecture also strives for when designing our clients' spaces.
Carpet continues to change, improve, and evolve, but it continues to be a great product that can showcase personality, add a focal point to a room, and help enhance your brand in a space. Remodeling and want a unique way to make a statement? Try carpet!